--CJMM MINI WHISKER BOYS--
WE HAVE 4 MINIATURE SCHNAUZER BOYS THAT WE USE FOR BREEDING. OUR OLDEST MALE IS CJMM MINI WHISKERS BLACK TYE. HE IS A BEAUTIFUL BLACK & SILVER. NEXT IS OUR BLACK & SILVER , MINI WHISKERS BLACK TUEXDO. OUR LAST , MINI WHISKERS KARMEL JAMOCHA, HE IS A RARE CHOCOLATE PARTI. WE HAVE ANOTHER RARE CHOCOLATE PARTI MALE, AKC MINI WHISKERS DASH FOR CASH, <>. HE IS A BEAUTIFUL SMALL BOY.
OUR MALES ARE DNA'D BY AKC. WE DO NOT BREED TO OUTSIDE DOGS.
MEET CJMM MINI WHISKERS BLACK TYE.
BLACK TYE IS DOUBLE REGISTERED, AKC & APRI.
HE IS A MINIATURE SIZE MINIATURE SCHNAUZER.
THE SCHNAUZER WORLD DOES HAVE 3 SIZES THAT ARE
RECONIZED. GIANT SCHNAUZER, STANDARD SCHNAUZER,
AND THE MINIATURE SCHNAUZER. AKC ONLY RECOGNIZES
THE TOP 3 SIZES.
ALSO NEW TO THE BREED IS THE TOY SCHNAUZER & THE
TEACUP SCHNAUZER. SOME BREEDERS SPECIALIZE IN THE 2 SMALLER SIZES. THEY HAVE BREAD DOWN THE MINIATURE TO
GET SMALLER SIZES. THE MINIATURE HEIGHT CAN BE BETWEEN 12 TO 14 IN. ANY THING UNDER 12 IN. THEY CALL A TOY SIZE.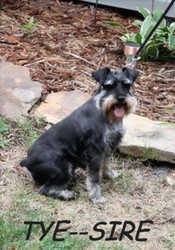 MY GOOD FRIEND TAMMY IS CO OWNER WITH TYE. HE HAS PRODUCED SOME FABULOUS PUPPIES WITH OUR FEMALES. . WE ARE VERY PROUD OF WHAT TYE HAS PRODUCED.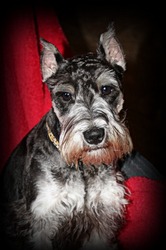 THE HANDSOME BOY ABOVE IS AKC TJ SILVERPAWS SIR ROMEO FINN. HE IS A STUNNING BLACK & SILVER THAT IS OWNED BY TJ SILVER PAWS, <TAMMY> ONE OF MY BEST FRIENDS. FINN IS FOR A REFERENCE, I DO NOT OWN HIM.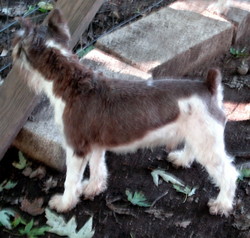 INTRODUCING;;AKC CJMM MINI WHISKERS
KARMEL JAMOCHA. JAMOCHA IS A CHOCOLATE
& WHITE BLANKET PARTI. JAMOCHA'S SIRE IS A APRI CHAMPION. THANK YOU VANNESSA FOR SELLING ME THIS FABULOUS
LITTLE BOY TO ADD TO OUR FAMILY.
JAMOCHA WEIGHS ABOUT 10 LBS, WHICH IS A SMALL MINIATURE. BORN 2010
MALE MINIATURE SCHNAUZERS OF CJMM MINI WHISKERS
" width="500" border="" />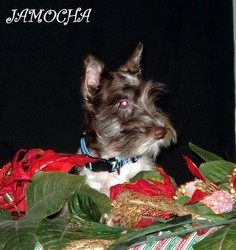 SOME BREEDERS DO NOT BELIEVE IN PROMOTING
THE UNIQUE PARTI COLORS. I PREFER QUALITY AKC 1ST,
IN CONFORMATION & TEMPERMENT. THEN I LIKE THE
UNIQUE SIZE & COLORS. NOT ALL OWNERS LIKE TO
HAVE SOMETHING THAT LOOKS LIKE THEIR NEIGHBORS
DOG BUT INSTEAD THEY WOULD LIKE A LITTLE DOGGIE
THAT STANDS OUT IN THE CROWD. WE CAREFULLY
SCREEN ALL OF OUR POTIENTIAL BUYERS. AND WE
FOLLOW UP WITH OUR BABIES AFTER THEY ARE ADOPTED.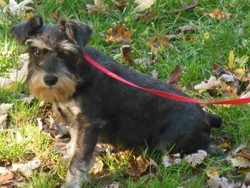 MEET AKC CJMM MINI WHISKERS BLACK TUXEDO. TUCKER IS A BEAUTIFUL BLACK N SILVER BOY. HIS SIRE IS TYE, <THE 1ST PICTURE> SO TUCKER WILL CARY ON TYE'S LEGACY. TUCKER IS SO FULL OF LOVE HE CAN HARDLY CONTAIN HIMSELF. WHEN HE WAGS HIS LITTLE TAIL HIS WHOLE BACK END WIGGLES LOL. WE ARE LOOKING FORWARD TO TUCKER'S PUPPIES NEXT YEAR.
MEET AKC CJMM MINI WHISKERS DASH 4 CASH. HE IS A BEAUTIFUL RICH CHOCOLATE & WHITE BLANKET PARTI. HE IS SO SWEET & FRIENDLY. CASH IS ON THE SMALL SIZE, ABOUT 8 LBS & 10 IN. TALL. HE WILL GIVE US SOME AWESOME PUPPIES.