WE HAVE NO PUPS FOR ADOPTION NOW
PLEASE CALL OR EMAIL ME TO BE PUT ON OUR WAITING LIST FOR THIS
SUMMER. CALL JOANIE 724-748-4433 OR cjmmlittlehorses@zoominternet.net
-------------------------------------------------------------------------------------------
THE DOG PICTURED BELOW IS SIR ROMEO FINN. HE IS PROUDLY
OWNED AND LOVED BY MY GOOD FRIEND TAMMY ELDER. ROMEO
IS AKC REGISTERED AND A BEAUTIFUL BLACK AND SILVER COLOR
HE IS A VERY NICE WELL BEHAVED BOY.
__________________________________________________________
PICTURES OF PUPS BELOW
BORN OCTOBER 30TH 2017
READY FOR THEIR NEW HOME DECEMBER 29TH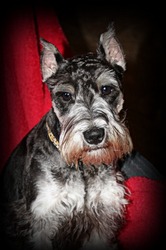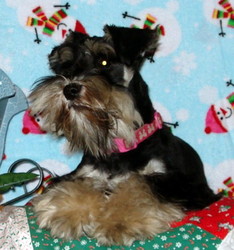 THE BEAUTIFUL BLACK AND SILVER FEMALE ABOVE IS AKC MAGIC SALENA
SHE ALWAYS GIVES US FABULOUS PUPPIES AND I AM LOOKING FORWARD
TO THEM. SALENA IS SO SWEET AND VERY QUIET. SHE LOVES ME UNCONDITIONALLY.
OUR PUPPIES WERE BORN 10--30--17
WE HAVE 3 RARE WHITE ONES AND 4 ADORABLE BLACK AND SILVER ONES.
WE HAVE
1 BLACK AND SILVER MALE AVAILABLE
1 WHITE MALE AVALIABLE
THE PRICE IS $800. WITH A DEPOSIT OF $300 YOU CAN RESERVE YOUR BABY
THE BALANCE OF THE MONEY IS DUE ON NEW YEARS WHEN THE PUPPY GOES HOME.
ABOVE IS A PICTURE OF ONE OF SALENA'S WHITE PUPS FROM 2 YEARS AGO
WE HAVE A WHITE MALE AND FEMALE AVALIABLE RIGHT NOW.
CLIENTS WHO HAVE RESERVED A MINI WHISKERS PUPPY
VANNESSA---DEBBIE---MARK---PHYLLIS----CHERYL---HANNA
WE STILL HAVE AVAILIABLE;;;
1 BLACK AND SILVER MALE
Sample Photo 5
" border="" />
Brief Description
Sample Photo 6
Brief Description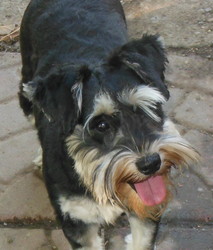 PUPS HAVE ARRIVED
YOU WILL NEED TO PUT A DEPOSIT OF $300 DOWN TO RESERVE
YOUR PUPPY.
WE ACCEPT A $300 DEPOSIT AND THE BALANCE OF $500 IS DUE
BEFORE THE PUPPY GOES HOME.
THE PUPPIES WILL HAVE A WELL VISIT WITH THE VET--1ST VACCINATIONS--WORMED 3 TIMES
AND A COMPLETE PHYSICAL BY OUR VET.
WE OFFER A 1 YEAR GURANTEE AGAINST ANY HERADIATARY LIFE THREATING DISEASE.
WE WILL GIVE YOU A FREE PUPPY. OUR PUPPIES ARE LOVED AND SOLD WITH HONESTY.
THEY WILL HAVE TAILS DOCKED AND NATURAL EARS.
OUR PUPS ARE HANDLED AND LOVED DAILY. OUR PUPS MAKE A DIFFERENCE IN YOUR LIFE,
DON'T BE WITHOUT ONE .
THE PUPPY ABOVE IS AN EXAMPLE OF OUR BLACK AND SILVER PUPS
WE HAVE 1 BLACK AND SILVER MALE AVAILIABLE.
Sample Photo 9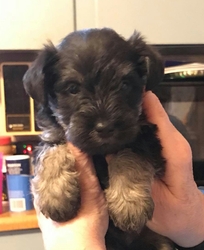 Sample Photo 10
Brief Description
Sample Photo 11
Brief Description
Sample Photo 12
Brief Description
Sample Photo 13
Brief Description