THE FINAL 3------THE LAST OF OUR LITTLE HERD HAS BEEN PLACED IN WONDERFUL HOMES.
GIVING UP MY LITTLE HORSES IS ONE OF THE HARDEST
DECISIONS I HAVE MADE. OUR LITTLE HORSES WERE
FAMILY. OUR LITTLE MARES WOULD LAY DOWN THEIR LIFE
FOR ME WHEN THEY HAD THEIR LITTLE BABIES. MOST OF
MY FOALS WERE BORN INTO MY ARMS & I WAS THE 1ST
THING THEY SAW. I TOOK OFF THE SACK, I MADE SURE THEY
WERE BREATHING & OF COURSE I MADE SURE THEY WOULD
NURSE. WE HAD CAMERAS IN THE STALLS SO I COULD
BE THERE WHEN MY GIRL FOALED. EVERY SPRING IT WAS
LIKE CHRISTMAS, WOULD THE FOAL BE A COLT OR FILLY,
WOULD IT BE A PINTO OR A SOLID. OH, THOSE WERE THE
GOOD OLD DAYS.
AND OF COURSE THE TRAINING THAT HOPI & I DID ALL
FALL & WINTER, GETTING READY FOR THE HORSE SHOWS.
THE JOY OF WATCHING HOPI TURN INTO A VERY GOOD
HORSEWOMAN AND A GOOD CONTENDER IN THE SHOW RING
THE PRIDE I HAD IN EACH & EVERY HORSE I SHOWED WAS
PRICELESS. LIFE DOES CHANGE & SOMETIMES WE DON'T LIKE
IT. THE ONLY REASON THAT MY LITTLE HORSES AREN'T PART
OF ME NOW IS BECAUSE I COULD NO LONGER CARE FOR
THEM. THE LAST YEAR MY HUSBAND CHUCK TOOK GREAT
CARE OF MY FINAL 3. BUT I DECIDED IT WAS TIME FOR
THEM TO GO ON TO ANOTHER GREAT HOME.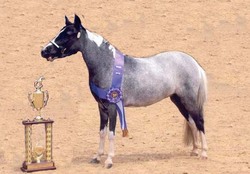 ABOVE STANDS AMHR CJMM PAINTED PRINCESS MIRIAH
SHE IS A GREAT LITTLE SHOW HORSE. SHE IS A
RARE BLUE ROAN PINTO. MIRIAH LIVES WITH JOYCE
FASSETT IN BELOIT OHIO. JOYCE IS A FRIEND THAT
I TRUST TO CARE & LOVE MIRIAH LIKE I DO. BEST OF
LUCK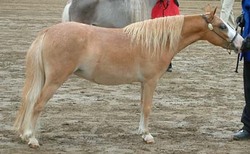 ABOVE STANDS AMHR MOSS-GROVE-CJMM BLAZE-N FLICKA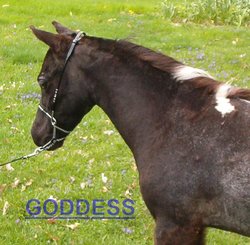 ABOVE STANDS AMHR CJMM PAINTED MAJESTIC GODDESS
BOTH FLICKA & GODDESS WENT TO A GREAT HOME IN NY.
MARTY PURCHASED MY STALLION & A FILLY LAST YEAR.
MARTY IS JUST BEGINNING HER LITTLE MINI VENTURE,
SO NOW SHE HAS MY LITTLE HERD TO CARRY ON MY NAME
& TO HAVE BABIES FOR HER. MARTY INTENDS ON SHOWING
THE CJMM HORSES. BEST OF LUCK
NOW THERE STANDS AN EMPTY BARN THAT ONCE WAS HOME
TO UP TO 15 LITTLE HORSES. ONE STALL & ONE PADDOCK REMAIN
JUST IN CASE SOMEDAY I AM WELL ENOUGH TO ENJOY A
LITTLE HORSE AGAIN. I DON'T WANT TO GIVE UP HOPE.