------PAGE 2 OF OUR NEW HAPPY OWNERS OF MINIATURE SCHNAUZER BABIES
PICTURES OF OUR 2008 , 2009 & 2010 LITTERS OF PUPPIES.
THIS PAGE HAS PICTURES OF OUR SUMMER PUPS
WHO HAVE WONDERFUL HOMES.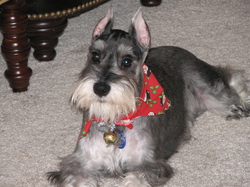 ABOVE IS SOPHIE. SHE IS A BEAUTIFUL SALT & PEPPER. SHE IS LOVED BY MARIANNE FROM ALLISON PARK PA..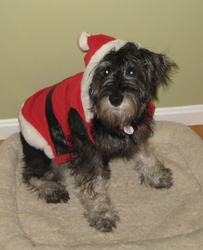 JOEY HAS A WONDERFUL FAMILY IN MA.
MERRY CHRISTMAS
Sample Photo 2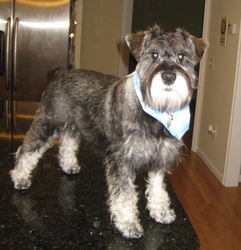 JOEY & HIS 1ST HAIRCUT. HE HAS A
WONDERFUL COAT.

ROXY IN THE PICTURE BELOW IS DOING WELL IN HER NEW HOME IN NY.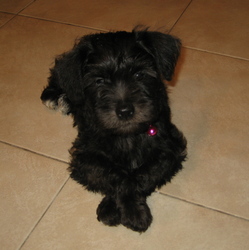 Hi Joanie, just a little update on nugget. He has me in tears at least once a day. what a puppy. He has started giving kisses now, it is so precious, there is no question that this puppy is showing affection. He has also started going to the bathroom outside. Last night we had some friends in two of us were playing guitars, and one was playing an accordian, Harold was holding nugget, I told him to watch and make sure he didn't get upset with all the comotion. He put nugget on the floor and he sat in the middle and kept turning his head and watching everyone and then came over and layed on my feet and went to sleep, so Harold picked him up and rocked him while we all played music and he slept the whole time. Here is a picture of what he does when I am doing dishes, (tears again) he is excatly the kind of puppy we wanted, thank you for being such a good breeder. Lora
NUGGET & LORA BELOW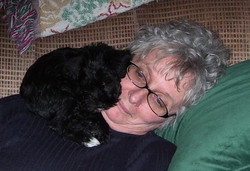 Hi Joanie... --picture below---
Just a note and a couple of pics from our saturday afternoon and to let you that Abbigail and Isabella are doing great.
When I think back just after losing Haley when we decided to adopt a new puppy, we feel so fortunate to have met you. You understood our grief and gave us reasons to look ahead.
We waited for Abby and Bella for almost 4 months and now we are so happy to have them home. The attention and Time you provide to your babies is very evident, as soon as they got home they adjusted almost immediately, thats a thanks to you.
They are so affectionate and love cuddling on the couch. We love it. lol. You made this adoption experience so enjoyable, I feel that we not only have two new additions to our family, but we made a great friend too.
Not since we lost Haley have I felt like saying like is good, but with our two lovable additions, I can say once again, Life Is Good !!
I 'll keep in touch and keep you updated...
Monty
NUGGET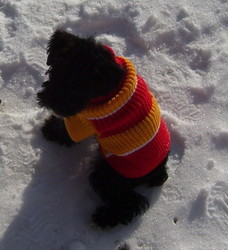 Dear Joanie,
An update on Nugget. He had his Drs. check up this morning. They said he was a wonderful puppy and in excellent health. They complimented the breeder and said she had done everything to ensure a healthy well adjusted puppy. They also were impressed with the veterinarian you used and expecially liked the health certificate that came with him.
He recieved his booster shots, but suggested we wait till next month to do rabies because he is a small dog and they dont like doing all the shots together on them, as you had suggested they might not want to. He has an appointment in a month for rabies, (if they feel he is big enough if not we will wait a little longer. Nugget weighs 5.1 lbs. His potty training is coming along very nicely. Thank you again Joanie, for our Nugget. Lora