ADULT SCHNAUZERS FOR SALE
SOMETIMES WE RETIRE OUR ADULT MINIATURE SCHNAUZERS
CALL JOANIE--724-748-4433 OR EMAIL cjmmlittlehorses@zoominternet.net
AKC CASH IS A WONDERFUL CHOCOLATE AND WHITE PARTI BOY. HE IS SWEET & FRIENDLY.
WE HAVE CHANGED OUR BREEDING PROGRAM. HE IS ABOUT 10 IN TALL AND WEIGHS ABOUT 12 POUNDS. I WOULD CONSIDER SELLING HIM FOR A STUD DOG TO A SMALL BREEDER. I WANT HIM TO HAVE INDIVDUAL ATTENTION. HE WOULD ALSO MAKE A GREAT PET.
CASH FOUND HIS NEW HOME WITH MARY & JOHN
WE KNOW THEY WILL LOVE HIM FOREVER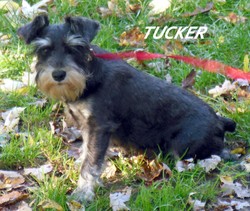 AKC BLACK & SILVER MALE--MINI WHISKERS BLACK TUXEDO IS A FRIENDLY SCHNAUZER LOOKING FOR A GREAT LOVING HOME. I WILL NOT SHIP HIM. HE IS 4 YEARS OLD AND LOVES CHILDREN. HE IS CURRENT ON ALL VACCINES & WORMED. IF YOU ARE LOOKING FOR A NEW BEST FRIEND HE IS THE GUY FOR YOU.
$400.00
TUCKER HAS FOUND HIS FOREVER HOME WITH BRENDA AND RALPH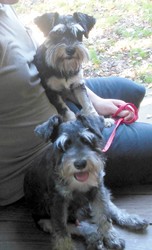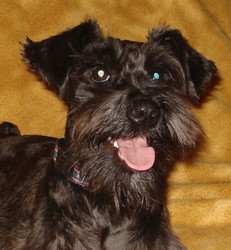 THE BEAUTIFUL BLACK GIRL ABOVE IS AKC MINI WHISKERS EBONY SECRETS
SHE IS RETIRED NOW AND SHE HAS GONE TO A WONDERFUL HOME IN NY
TO LIVE WITH HER DAUGHTER. SHARON MAKES SURE THEY ARE VERY SPOILED.