INFORMATION FOR PURCHASING ONE OF OUR MINIATURE SCHNAUZER BABIES
ALL OF OUR SCHNAUZERS ARE AKC REGISTERED, THE MOST TRUSTED REGISTRY. .SOME OF OUR DOGS ARE ALSO APRI REGISTERED. WE SELL BEAUTIFUL QUALITY PUPPIES TO BE YOUR FOREVER BEST FRIEND.. WE ARE NOT A PUPPY MILL, OUR PUPS ARE RAISED IN THE HOUSE & THEY GET LOTS OF LOVE, AND KISSES. WE RAISE ONLY MINIATURE SCHNAUZER DOGS. WE DO NOT SELL TO PET SHOPS OR PUPPY MILLS. WE ONLY HAVE A FEW LITTERS A YEAR. THATS WHY WE HAVE A WAITING LIST FOR OUR FABULOUS PUPPIES.
I LOVE RAISING DOGS FOR OTHERS TO
ENJOY. I HAVE ENJOYED THE LOVE &
NURTURING FROM MY ANIMALS ALL OF
MY LIFE. I TRUELY BELIEVE HAVING
ANIMALS AS A PART OF YOUR LIFE
MAKES IT MORE COMPLETE. ANIMALS
LOVE US UNCONDITIONALLY & WITHOUT
EXPECTIONS. ALL THEY WANT IS LOVE &
CARE IN RETURN. THAT IS WHY I RAISE
MINIATURE SCHNAUZER DOGGIES

WHY SETTLE FOR LESS WHEN YOU CAN AFFORD THE BEST !!!!!!!!!!!!!!!!!!!!!
WE ACCEPT CASH, MONEY ORDERS, AND MASTER CARD, VISA, CHECKS AND DISCOVER THROUGH PAY-PAL. THERE IS A 4% PROCESSING FEE IF YOU USE PAYPAL. THERE ARE NO CASH REFUNDS.
OUR PUPS HAVE THEIR TAILS DOCKED, DEW CLAWS REMOVED.
EARS ARE LEFT NATURAL. THEY WILL HAVE THEIR 1ST SET OF
VACCINATIONS, AND AN EXAM FROM OUR VET. THE PUPPIES
WILL BE DEWORMED 3 TIMES BEFORE THEY LEAVE MY HOME.
THEY COME WITH A 1 YEAR HEALTH CERTIFICATE AGAINST LIFE THREATING GENETIC DEFECTS.. ALL PUPS ARE PROMISED AS HEALTHY PETS. EVEN THO SOME OF THEM MAY BE SHOW & BREEDING QUALITY TOO. IF THERE IS A PROBLEM
WITH A LIFE THREATING GENTIC DEFECT I WILL LET YOU CHOOSE ANOTHER DOG IN ITS PLACE.. YOU HAVE 5 DAYS
FROM THE TIME YOU TAKE YOUR PUPPY HOME TO HAVE IT EXAMINED BY YOUR VET. IF THERE IS A LIFE THREATING HERDATIARY DEFECT I WILL REPLACE YOUR PUPPY WITH MY NEXT AVAILABLE PUP. I WILL NEED A FULL REPORT FROM YOUR VET.
WHEN YOU USE NU-VET VITAMINS YOUR GURANTEE EXTENDS UP TO 3 YEARS.
TERMS & CONDITIONS CAN CHANGE AT ANY TIME.
ALL PUPS ARE SOLD ON AKC LIMITED REGISTRATION. (THEY CAN NOT BE BRED & HAVE A REGISTERED LITTER) THE PURPOSE OF LIMITED REGISTRATION IS TO ENCOURAGE SPAYING & NEUTERING TO REDUCE THE NUMBER OF UNPLANNED PUPPIES & DOGS THAT ARE PUT TO DEATH EVERY YEAR IN THE ANIMAL SHELTERS. IF YOU ARE A SMALL HOBBY BREEDER WE CAN DISCUSS THE BREEDING MATTER FURTHER.
.
THE PUPPIES WILL BE PRE- SPOILED & LOVED DEARLY. THEY ARE HELD & LOVED DAILY BY MY TEEN BOYS & MYSELF.
WE WILL SHIP WITHIN THE USA. THE COMPLETE CHARGE FOR SHIPPING IS ABOUT $375.00, INCLUDING A NEW PET CARRIER & HEALTH CERTIFICATE. DEPENDING ON THE AIRLINE RATES AT THE TIME FROM THE PITTSBURGH AIRPORT IN PA.
TO RESERVE YOUR PICK OF THE LITTER PUPPY, THE DEPOSIT IS $300.00. PAYMENTS CAN BE MADE UNTILL THE PUP IS 8 WEEKS OLD & READY TO VENTURE OFF TO ITS NEW HOME. ALL
DEPOSITS & PAYMENTS ARE NON REFUNDABLE. IF YOUR LITTLE BUNDLE OF JOY NEEDS TO FLY TO HIS DESTINATION HE WILL NEED TO BE PAID IN FULL 2 WEEKS BEFORE HE LEAVES. ALSO BUYER IS RESPONSIBLE FOR ANY EXTRA CHARGES THE PUP NEEDS TO FLY.
BOTH PARENTS ARE HERE AT OUR HOME FOR YOU TO SEE.
BELOW IS OUR LITTLE MEGA COATED BLACK & SILVER GIRL, CJMM MINI WHISKERS MAGIC SALENA.
SHE IS A LOVE BUG & SWEET AS CAN BE.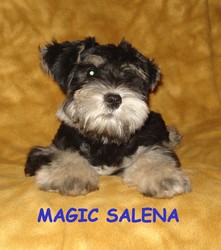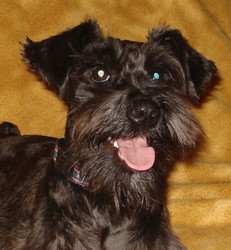 ABOVE IS OUR JET BLACK LITTLE GIRL, CJMM MINI WHISKERS
EBONY SECRET. SHE WAS BORN 2012 & SHE IS GROWING UP TO BE A BEAUTIFUL GIRL.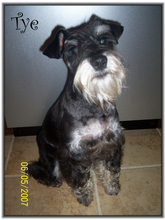 THE BLACK & SILVER MALE ABOVE IS OUR STUD DOG.
AKC---APRI CJMM MINI WHISKERS BLACK TYE
HE IS ABOUT 13 IN TALL & WEIGHS ABOUT 15 LB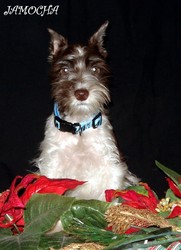 ABOVE IS OUR AKC CHOCOLATE & WHITE PARTI THAT
WE WILL BE USEING FOR BREEDING. HIS NAME IS CJMM
MINI WHISKERS KARMEL JAMOCHA. HE IS A SMALL
MINIATURE IN SIZE BUT HE HAS A BIG ATTITUDE &
HE IS VERY LOVING. HE IS ABOUT 12 IN TALL & WEIGHS
ABOUT 12 LB.
BELOW IS OUR NEWEST ADDITION, ,<AKC CJMM MINI WHISKERS MIRIAH-LIVIN THE MOMENT.> SHE IS OUR HOME BRED PUPPY.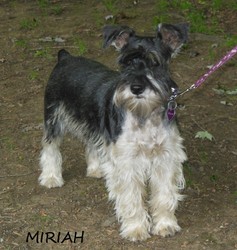 BELOW IS OUR FEMALE, AKC--APRI
CJMM MINI WHISKERS PANDA PAWS. SHE IS
A BLACK & WHITE BLANKET PARTI.
SHE IS 10 IN TALL & WEIGHS ABOUT 10 LB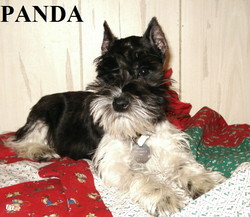 INFO. ON SHIPPING YOUR PUPPY;;;
We will ship your new bundle of joy to a major airport
near you through Pittsburgh Airlines. WE ONLY SHIP U.S.. Shipping charges will be around $375.00 .roughly and includes a State Issued Health Certificate,
Crate, Flight, and Insurance. Shipping charges are
your responsibility and will be added to the balance of
your invoice before puppy is shipped. We will make the
reservation for you and will email you all pertinent
information regarding the flight number, airline used,
flight arrival time and give you any important
instructions you will need in order to pick up your new
baby.
Your puppy must be paid for in full 2 weeks before he
is shipped.