HAPPY NEW OWNERS OF OUR MINI SCHNAUZER BABIES
WE ARE VERY PROUD OF OUR MINIATURE SCHNAUZER DOGS AND WE ARE SO HAPPY WITH OUR PUPPIES FOREVER HOMES.
INTRUDUCEING SOPHIE VON SCHNAUZER MARIANNE FROM
ALLISON PARK, PA

Coincidentally, she was born on my grandmother's birthday (July 6th), so we figured that Heidi had something to do with it and she was meant to be ours. As you can see from the pictues, she moved right in!! Thankfully, she already has learned to "go" outside, with just a few "accidents" in the house. She is playful, active and seems to be loving her new home! And that face is sooo adorable!
Happily for us, she also is sleeping through the night...but who wouldn't, when snuggled on a fluffy blanket with her toys, between us in a king-sized bed ?!!!
Happy Labor Day!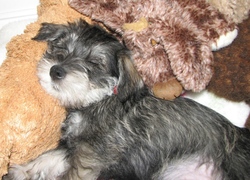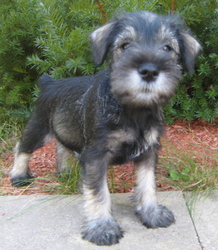 PUPPY ABOVE---
GEMMA FROM MA. SAID LIL JOEY IS
SETTLEING RIGHT IN TO HIS NEW HOME.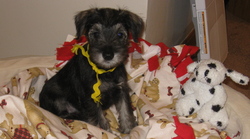 Hi Joanie,
Thanks for calling today. I wanted to make sure I sent you this picture of our little guy! He is doing great! He is actually sitting here helping me write this email! He loves his room and has been doing very well as far as going on the paper. We are working on going outside. For the most part he is doing very well with that as well. He even lets us know sometimes when he needs let out! He has his vet appointment on Tuesday for his second set of shots. He really is a joy to have around!!!! Thank you so much for such a wonderful puppy!!! I will let you know what we name him and send some more pictures!!!
SIncerely,
Correna Pfeiffer-----FROM PGH. PA
---
Hi Joanie,
I have attached some photos for you.....Ozzy has made himself right at home with us!! He loves to be outside, as you will see in the pics (and loves to find the mud everytime!!) Our big boy, Oliver, is still not thrilled with Ozzy, but he is becoming a little more tolerant everyday. We are still working hard on the "potty training"....this has been a slow process. We love the new addition to our family! Thanks again, and we will keep in touch.
Chris
FROM CAMB. SPRINGS PA.
OZZY AND OLIVER TAKEING A NAP.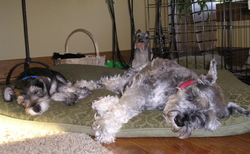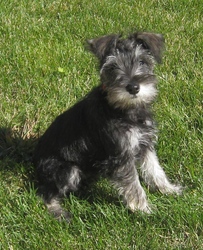 Hello Joanie,
I would like to introduce you to Odie Statler Pfeiffer. Odie for his playfulness and he reminded me of Odie from Garfield due his tendency to agitate my mom's Yorkie. Statler because his eyebrows reminded my brother of Statler and Waldrof from the Muppet show. Odie is doing very well. He has got his potty training down. No accidents for awhile now! We had a party for my Dad's birthday at North Park and brought him along. I never got so many compliments on a dog before! Everyone said how cute he was and how well behaved he was for a puppy. They couldn't believe he was just a few months old! Odie also participated in the Beaver County Heart walk with me. He did very well. I was very impressed. There was another puppy there that was barking and being difficult to walk but not Odie he just walked along. He is a joy to have around! He loves to play and hang out with Mitch and I. For Halloween, he is going to be a ghost. I already bought him his costume! We are so happy with our decision to get our puppy from you! Thank you so much! I am sending you an updated picture I took the other day while he was playing in the backyard. Talk to you again soon with more pictures!
Sincerely,
Correna Pfeiffer
ODIE IS READY FOR TRICK OR TREAT IN HIS GHOSTLY COSTUME.